---
Activities
---
Operation, administration and management of network infrastructures.

The exploitation and development of computer applications for pedagogical management.

Monitoring and implementation of distance

education

and distance learning projects.

Provide technical support for the design and production of online courses.

Training and mentoring of distance education providers.
---
The Sections
---

 The Center for System & Networks consists of three sections: the Network section, the E-learning section and the System section.
Network Section
Server administration


Cabling


Security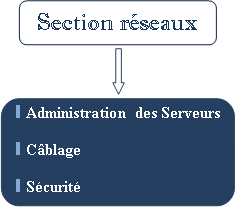 Responsible : Mr. Douara Rochdi
 Rank : Ingénieur Principale Informatique
 Tel :  +213 (0)34 50 14 00      Poste : 235
 E.mail :  r_douara[@]univ-jijel.dz

Systems Section
 

Development



 

Web and infographic



 

Messaging



 

Maintenance Hardware, Software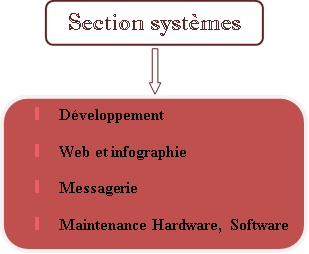 Responsible : 
 Rank : 
 Tel :  +213 (0)34 50 14 00
 E.mail : 
Distance education and distance learning section
Adminitration platform


Training


Videoconference


Multimedia
Responsible : 
 Rank : 
 Tel :  +213 (0)34 50 14 00
 E.mail : 
---
Contact information
Responsible
     Mr. LABDAOUI Mohammed
Rank  : Ingénieur Principale Informatique
Tel: +213 034 50 14 00      Poste : 152
Tel/ Fax : +213 034 47 78 26
E.mail : csricte[@]univ-jijel.dz / labdaoui_m[@]univ-jijel.dz